Over the past 40+ years of performing and recording, I've helped literally thousands of students learn to play their favorite music. I teach guitar, mandolin, fiddle, ukulele and bass in styles from Bluegrass to jazz. I can accommodate most styles and techniques and write all the important class content which includes; play along mp3s and PDF's of whatever song we're into at the moment.
I'm back to teaching In-person lessons at Olympic College and my home studio (also in Poulsbo). I'm fully vaccinated and as always internet lessons are an option.
My regular hours are roughly between noon and 9 p.m. and there are scattered openings. I accept cash, PayPal, Venmo, checks and cash. Let me know what day and time you'd prefer, and I will try to accommodate.
Of all the places in the world to teach… I do! Since 2009 I've been Zooming and Skyping one-on-one lessons all over the planet – from Texas to Alberta, California to Nottingham. I teach private and group lessons at Olympic College in Poulsbo, and offer private instruction at my Home Studio – also in Poulsbo.
My "Raise the Bar" classes Will be coming back in Kingston starting in April 2022. Contact me for details. Olympic College private guitar and bass lessons are always available via zoom.
see Reviews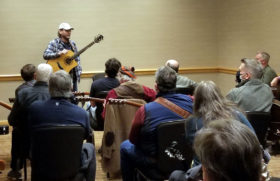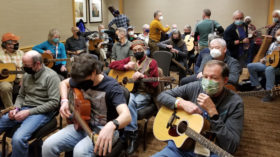 Wintergrass 2022 Flatpick Workshop
Over the years I've made it a point to archive my most popular lessons and shortcuts, which we hope to make available here in video form.